The classic search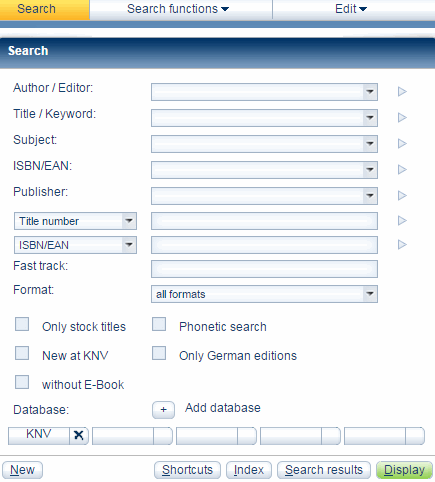 After starting the program you can see in the left part of the pcbis window the fields for the classic search. Here you can research with the aid of different search terms.
Using search fields
You can complete several fields. The search terms are thus automatically linked together that in the overall result only the titles that match all search terms entered are listed (AND operator).
The program cannot correct or ignore typing mistakes. For this reason avoid long entries and abbreviations. The search terms should be at least three characters long and a maximum of 20 characters long.
Displaying titles or search results
Click Display to immediately display all the titles found in the title window.
Click Search results to display the number of titles found. The search results appear beside the search form. There is one line per database selected in the search results.
Click New if you have made a mistake or there are no search results in the database. The contents of the fields are then deleted.
Further subjects: