Changing department or ID numbers
During a pcbis.de session (that is without logging out and logging in again), you can change the ID number or the department.
On the Department/ID no. menu select the Change Department/ID no. command.
The Change Department/ID no. dialog box is opened.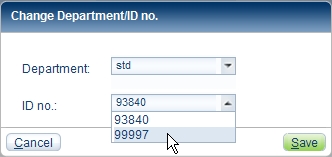 Select the department or ID number that you want to change to and click Save.
The ID number and department are indicated at the top right in pcbis.de.

Related subjects: