Print settings
Select in the search result, in the memory list or in a saved list the check boxes for the titles for which you want to print the data.
On the Print and export menu select the Print settings command.

The Print settings dialog box opens.
First you can define whether you want to produce a short format or long format literature list.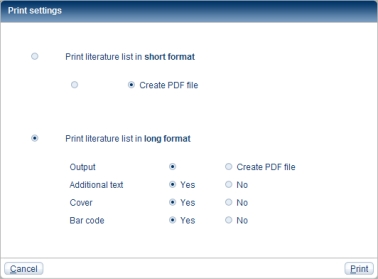 With both the short format and the long format you can select whether the literature list is to be printed or output as a PDF file.

With the long format you can also set whether additional text, cover or bar code are also to be printed.
Click the Print button.

If you have selected the Print option, a new window appears with the selected titles in short format or long format.

A print dialog box is opened where you can select a printer and start the printing.

If you have selected the Create PDF file option, a PDF file opens that you can save, print or send as an e-mail.
Output as a PDF file requires that Adobe Acrobat Reader is installed on the workstation. If necessary you can download this application free of charge from the Internet and install it: www.adobe.com/uk.
Related subjects: