Memory list
You can open the actual memory list at any time in pcbis.de using the menu bar.

If you need to perform several searches from which you want to "pick out" one or more titles, first collect the titles in a memory list by using the Titles in memory list command on the List functions menu.
Example: A customer wants a travel guide and a road map for Cornwall, as well as a few novels that are set in Cornwall as a selection.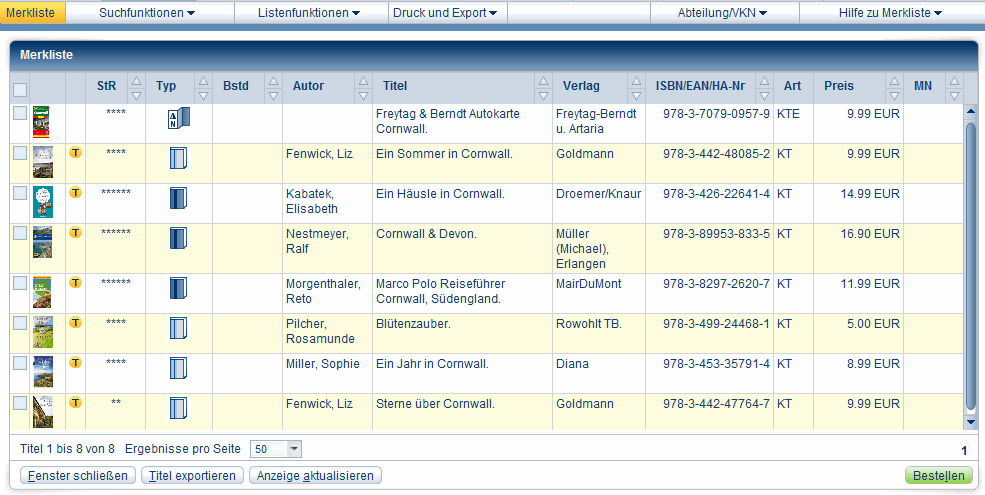 Once you have opened the memory list, you can view the titles like in the title window, order or print individual titles from the list etc.
Sorting the titles in the Memory list
You can also easily sort the titles in the Memory list.
Click one of the triangles beside the column headings.

The top triangle sorts the titles in ascending order, e. g.:
Lowest price first
Publisher with first letter in the alphabet first (Diogenes before dtv)
etc.
The bottom triangle sorts the titles in descending order, e. g.:
Highest price first
Publisher with last letter in the alphabet first (Vandenhoeck & Ruprecht before Suhrkamp)
etc.
Deleting a title from the memory list
Select one or more titles in the memory list.
On the List functions menu select the Delete command. A message is displayed that the titles have been deleted.
Click OK in the message.
Attention: The memory list is deleted when closing pcbis.de and after 60 minutes of inactivity (if you have not used pcbis.de). If you want to save the titles for longer and, e. g. want to collect them by specific subjects or customers, you can save them in a Saved list.
Related subjects: